Sheer fabrics have a unique charm to them that is difficult to replicate with the other types of fabrics. They are extremely light and have a subtle sheen to them; but, the stand-out characteristic of these sheers is their transparency. If you want your living room to be airy with a good amount of light coming in, then a sheer fabric curtain is easily your best bet. For bedrooms though, you should check out our impressive collection of blackout curtains.
When we talk about a sheer fabric, we are essentially elucidating the fact that the fabric is lightweight, transparent (or, semi-opaque), and shiny. There are many fabrics that fall in this category such as chiffon, organdie, organza, voile, batiste, etc. It's important to note that these fabrics vary from one another with respect to weight, transparency, and lustre. Voile, a semi-transparent sheer fabric, is a popular choice for curtains. Recently, organza curtains have also attracted a lot of attention, especially in the faux silk variant.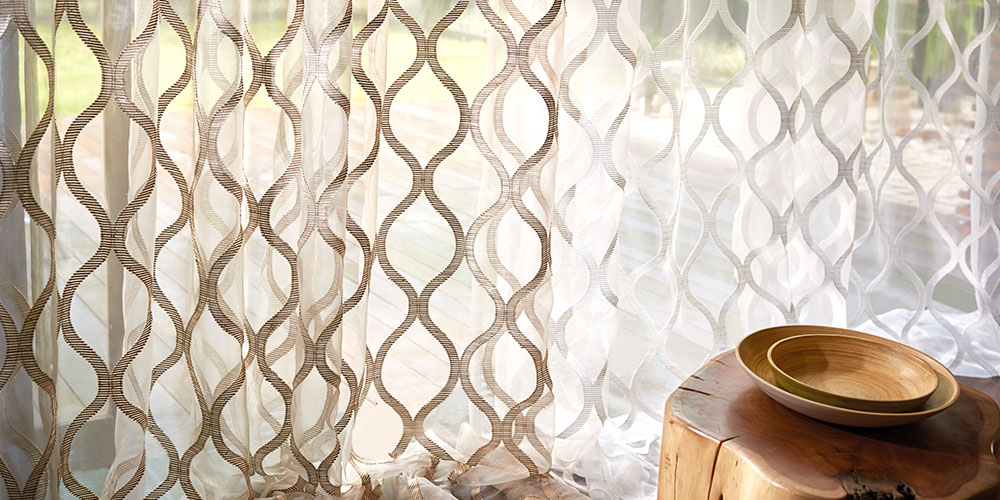 Due to their net-like texture, sheer fabrics allow a considerable amount of light and air to pass through them. Hence, you can easily control light and air in a room by buying a specific type of sheer fabric. These fabrics can also be used to make a partition in a big room without blocking light and air flow from one part to the other. At York, you'll find a large assortment of sheer fabric curtains in dark & soft hues with riveting embroidery. You can check out these captivating sheer fabrics and other furnishing fabrics at York's showroom in Dubai or at the leading retail showrooms across Middle East.