Embroidery has the unique power of adding grace to even the simplest of fabrics. Irrespective of the furnishing fabric used, embroidered patterns can effortlessly add beauty and substance to a fabric. It's important to resist going overboard with the embroidery and be selective about where to use it. The primary purpose of using an embroidered furnishing fabric is to add a subtle charm to a living space and let the furniture(curtain, chair, cushions, ottomans, etc.)swimmingly fuse with other objects in the room.
Curtains are best for showcasing the mystical flair of embroidered fabrics. Depending on the styling theme used in the room – single-patterned (floral), recurring patterns (geometrical), or embroidery could be employed. For most rooms, use of soft colours against a white base fabric is appropriate; but, if you're looking for a lively theme then golden embroidery work against a dark coloured base fabric (such as red) would be more fitting.
Apart from curtains, cushions and pillows also look stunning in embroidered fabrics. From simple to elaborate embroidery, everything goes well with cushions due to their compact size. When it comes to colour, numerous combinations (similar & contrasting) could be used. Though, it is better to contrast the base and embroidery colours to bring all the elements to the forefront. Bright colours in floral embroidery are timeless favourites that could brighten up any room.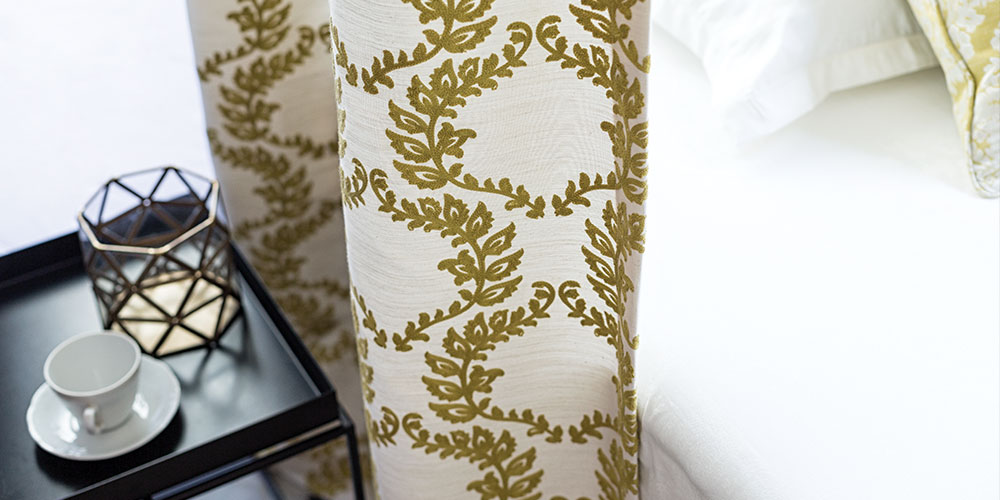 Once I had the pleasure of visiting a Victorian-era styled house and was blown away by the two floral embroidered chairs with a golden base fabric. Many people stay away from embroidered furnishing fabrics for chairs as they are not sure about the final look; but, once you have it in your house, you wouldn't be able to stop yourself from admiring it. An embroidered chair, in as simple as white base fabric with red embroidery, looks a class apart. In fact, most colour combinations go well with embroidered chairs & ottomans. You can visit our showroom in Dubai (or any leading retail showrooms across Middle East),to choose from a captivating assortment of embroidered and other types of furnishing fabrics.