Solid colours provide an organized & soothing look to a room. These colours for upholstery fabrics are perfect when you are looking for a traditional look or want the room to appear more spacious. On the other hand, printed upholstery seamlessly enlivens the room and adds a vintage subtleness to it. In fact, in the old days, prints were an integral part of most home décor schemes and the appreciation for printed fabrics has only grown ever since.
There are virtually unlimited prints available for upholstery fabrics; but, these prints can be broadly classified in three categories: floral, stripes and scrolls. The beauty of floral prints is that they could be used in traditional as well as contemporary home décor styles.Large amount of variations is possible when working with floral prints. You can use large floral prints in bright colours against a white (or a neutral) base fabric or reverse the colour scheme and use a red base fabric with small, golden floral prints. Depending on the overall theme of the room (lively or serene), you can experiment with a lot of colours and patterns.
Striped upholstery fabrics are generally used to give a calmer look to a living space. Though you can play with contrasting colours, you'll be amazed to see how well the same type of colours look in a well-executed striped theme. For example, a sofa in a white base fabric with ivory stripes looks simply majestic and the same colour combination could be used for the cushion covers as well. If you are looking for a random or an irregular theme for your living room, then go with the polychromatic stripes. Other than the fashionable vertical stripes, you can also work with zigzag prints that are equally captivating.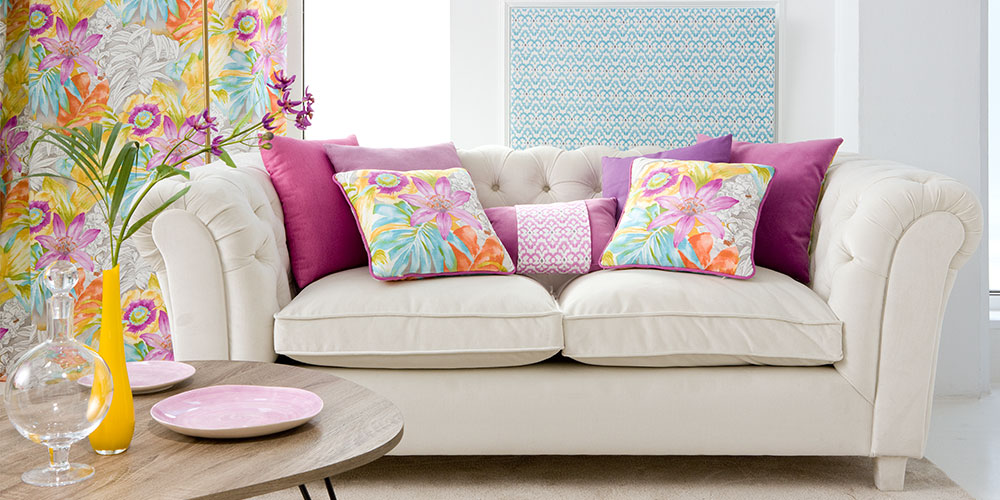 Scrolls extend the floral patterns by enclosing them in a definite boundary and continuing the pattern throughout the upholstery fabric. Use of scrolls could be seen in many areas such as medieval architecture and clothing. The results you'll get from intricate scrolls are truly spectacular. In fact, today the use of scroll prints in upholstery fabrics is more common than floral and striped varieties. At York, you'll find a wide range of printed upholstery fabrics in various designs and colours, available at highly competitive prices.