Sheer curtains are different from other types of curtains as they are not opaque,this being the primary reason why they are used in various home décor schemes. They are essentially used to create an illusion of a pseudo boundary, along with letting sunlight and air to pass through the curtains. Due to this reason, the fabric used should have characteristics of being lightweight, transparent and shiny. These fabrics however are different from common furnishing fabrics such as cotton, polyester, silk, etc. Organza and voile are the two most used fabrics for making sheer curtains.
One common use of sheer curtains is in living rooms that open towards beautiful landscapes like mountains, beaches, gardens, etc. Your guests will not only be mesmerised by the beauty of these sheers, but also by the picturesque views outside. Study rooms are another area where you can use sheers and let the sunlight and air fill the room while maintaining reasonable privacy,(sheers could also be semi-transparent). Apart from this, they could also be used to cleverly create a partition in a huge room, while maintaining or enhancing its beauty.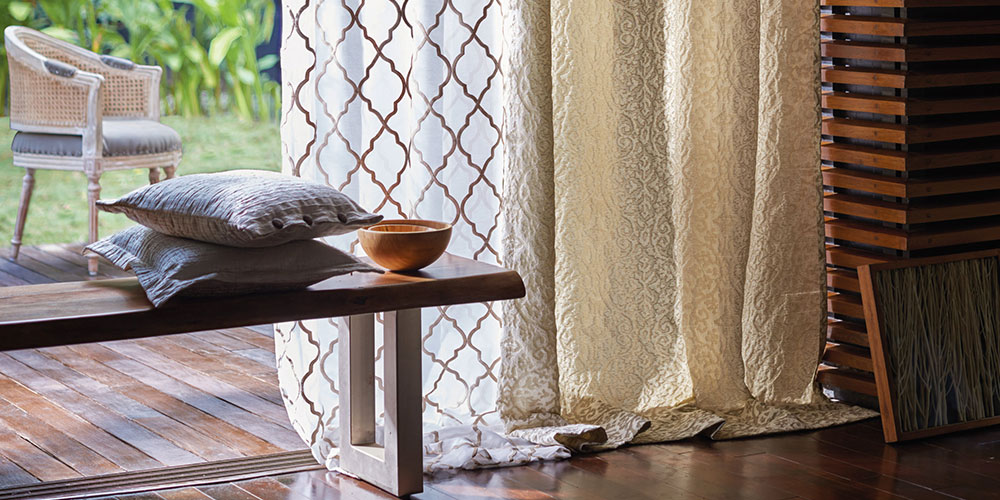 Most sheer curtains come in light colours such as white, ivory, light golden, grey, sky blue, etc. You can also get them in darker colours, but the real charm of these sheers is best seen in light colours. They could be plain or patterned (floral, geometrical, etc.),which may help in controlling the amount of light entering a room. You could also use them in bedrooms, but it's better to couple them up with blackout curtains. At York, you'll find a wide range of sheers in different designs and stunning colours. We also have an impressive collection of various types of furnishing fabrics that you can see at our showroom in Dubai or at leading retail showrooms across Middle East.